Anaesthesia Machine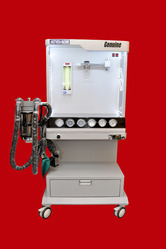 Anaesthesia Machine
Product Description
Anaesthesia Machine-
Anaesthesia Machine provided, is a medical device used to generate and mix a fresh gas flow of medical gases and inhalational anaesthetic agents for the purpose of inducing and maintaining anaesthesia. This machine is very effective and highly used in the market. This machine is widely appreciated for its unique features and high performance too. Anaesthesia Machine dispenses the gases that are necessary to induce sleep and prevent pain to animals during surgical procedures or other potentially painful manipulations. This machine is very cost effective and can be easily purchased by our eminent clients at nominal prices, in bulk quantities.

Silver anesthesia machine
Integrated Safety Feature
Oxygen failure protection device (ofpd) : ofpd works as a true fail-safe system as it allows flow of nitrous only in presence of oxygen at rota meter level and locks the flow of nitrous oxide in the absence of oxygen through its rota meter.
Basal Flow : When ofpd is operation as indicated by the audio-visual alarm, a separate pneumatic circuit is activated to deliver a minimum oxygen flow of 200-300ml/min through its rota meter.
Alarm: audio-visual alarm is activated if flow of oxygen falls below 1 lpm. Simultaneously it activated a pneumatic circuit to lock the flow of nitrous oxide.
Pneumatic Circuitry: Completely encased, detachable pneumatic circuitry for easy & prompt service check up.
Emergency Oxygen: emergency oxygen flush button is provided at table top level on the front it is recessed and guarded to avoid accidental pressing.
Vaporizers: the vaporizers of ether and halothane are supplied as standard accessories provision for incorporating vaporizer of users choice in the back bar.
Rotameters: 230mm long accurately calibrated rotating bobbin flow meters
| | |
| --- | --- |
| Oxygen | 100ml/minto 10 lpm |
| Nitrous Oxide | 200ml/min to 12 lpm |
Ventilator driving source: quick-fit system provided for driving a ventilator operating pressure: 60 psi
Shelf for vantilator: sufficient space provided at the top level of lower drawer to place ventilator
Drawer: sufficient space provided in an extra-large storage drawer to accommodate all accessories.
Table Top : guarded table top provided with a stainless steel tray ( 560mm x 260mm )
Instrument Tray : Top tray provided at eye level for keeping monitoring equipments.
Patient Circuit: standard magills circuit consisting of bag-mount- 01 no. Antistatic corrugated hose-01 no. , heidbrink valve- 01 no. , angle mount -01 no. , catheter mount- 01 no. antistatic face mask-02 nos. (adult & child), 2 ltrs recreating bag-01 no.
Optional Accessory: twin-canister circle absorber system with apl valve & y circuit.
Gas Supply Options:
Central Gas Pipeline

oxygen & nitrous oxide.

Pin-Indexed Yokes

2 nos. Each oxygen & nitrous oxide. Each gas specific yoke included separate gauge regulator and mounting hardware

Dimensions

height 145cm

depth 45 cm

width 60 cm
Contact Us
B-150, DDA SHEDS, Okhla Industrial Area, Phase-II, New Delhi, Delhi, 110020, India
Phone :+918037401389